Family therapy is available in various ways because we recognize that your family may consist of various members.
We will work with an identified client and those who make up his or her family. This could include parents, siblings, aunts/uncles, cousins, or other caretakers. No matter where you live in the state, MySpectrum provides caring and compassionate family therapy in Virginia. Not only do we offer traditional in-person sessions, but we also provide family teletherapy so whether you are near our home office in North Chesterfield or all the way up in Northern Virginia, we can help you can work through issues in an environment that is convenient and comfortable for you.
Areas of Focus
Family counseling occurs in sessions generally up to 60 minutes long, however, this may differ based on insurance coverage, preference, and size of the family.
Family Therapy may focus on areas such as:
Family Discord
Parent-child counseling
Setting limits
Divorce counseling
Unbalanced harmony in the household
Grief and loss within a family
Transitions
Work and school challenges that impact the family unit
Family dynamics in general (such as simply "getting along")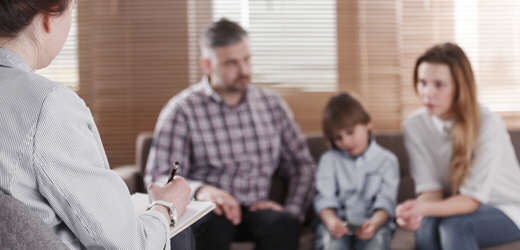 How Family-Based Therapy Can Benefit You
Whatever type of therapy you're seeking for family issues, professional help can do a lot for your loved ones. By discussing relationship problems with an experienced, caring therapist, you could learn to communicate more effectively, establish healthier boundaries, and improve your problem-solving abilities. Our expertise and approach to in-person and online family therapy are equally effective at helping you restore the balance and bring peace to your household. Reach out to us today to learn more about our services.